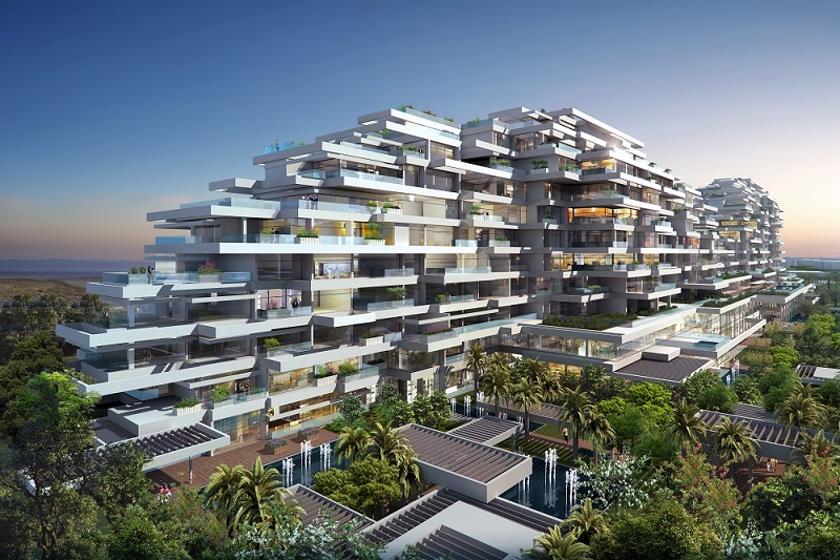 Al Barari is a green and eco-friendly community in Dubai, which is designed to be a true desert oasis. Almost sixty percent area of the community is developed on the green space where you can see man made freshwater lakes, themed gardens, and natural landscapes. Lavish villas are surrounded by botanical gardens where you can breathe in fresh and clean air. Two phases are completed; phase 1 features 189 villas and different residential places, while phase 2 comprises schools, hospitals, shopping malls, and retail centers. There are different popular developments in Al Barari and a few of them are listed below. 
1. Seventh Heaven
It's a beautifully designed building inspired by the rugged mountains that dot the country's coastline. There are stepped layers on the building which trip down as the height increases. The epitome of architecture comprises 157 homes altogether, which include four-bedroom apartments, penthouses, studios, and garden homes. High-end finishing of each home and apartment prove it a worth buying place. The amenities include outdoor and indoor swimming pools, fitness center, gated community, landscape gardens, etc.
2. Ashjar 
The layered designed building is a collection of 120 residential apartments that are built in a low-rise form. Ashjar is a stunning project of Al Barari that impresses the eye due to its spectacular beauty. The homes are arranged in the form of clusters where water streams and waterways boost the beauty of the area. Underground parking facility is available for the residents and the building is divided into three segments named as an introvert, extrovert, cube. Each segment offers unique facilities and a person can buy a home as per his needs. The shared amenities of Ashjar are various such as cascading terraces, children's playground, 24/7 security, and distinct designs.
3. The Reserve  
The Reserve is another amazing development in Al Barari and designed for people who want to live in a high-end home. The landscapes are highly appealing and stun every eye, which impresses everyone and a big reason for buying property. It's a collection of freehold land and plots area start from 31,000 square feet. Fully customizable homes are amazing architecture and have high-end finishing. The gated community of The Reserve offers 24-hours security for its residents. Landscape gardens and bespoke designs make it a favourite place for investors.
4. The Nest
It's a collection of 55 exquisite villas that have high-end finishing and feature four bedrooms. Every villa has amazing architecture, beautifully designed bathroom, landscaped garden, formal sitting area, and a contemporary kitchen. The homes in 'The Nest' offer a perfect balance of privacy and community. Every home boasts awe-inspiring and eco-friendly environments make it the perfect place for families. Large plots ranging from 10, 000 to 13000 sq feet and every villa offer amazing landscape. Clubs, Heart & Soul spa, The Farm, and Body Language Health club are some of the best amenities in ''The Nest'.
5. The Residences
The Residence reflects the true inspiration of Al Barari. Greenspace, themed pars, and water lakes make the place extremely amazing and attract buyers from all over the world. There are four villas type in 'The Residences' named as Dahlia, Bromillia, Acacia, and Camellia. There are a total of 189 families living in the area and every villa has unique architecture, perfect building material, and high-end finishing. The family homes range from 12, 700 square feet and surround by a number of water lakes, walkways, and green spaces.
Al Barrai is a heaven for nature lovers who want to breathe in clean and green air. The area is away from the noise of the city and perfect for families having small kids. No security issues and best living amenities make it the first choice of investors.